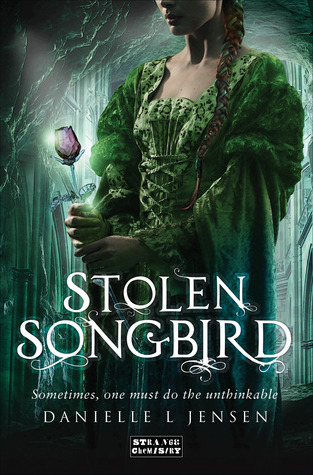 For five centuries, a witch's curse has bound the trolls to their city beneath the ruins of Forsaken Mountain. Time enough for their dark and nefarious magic to fade from human memory and into myth. But a prophesy has been spoken of a union with the power to set the trolls free, and when Cécile de Troyes is kidnapped and taken beneath the mountain, she learns there is far more to the myth of the trolls than she could have imagined.
Cécile has only one thing on her mind after she is brought to Trollus: escape. Only the trolls are clever, fast, and inhumanly strong. She will have to bide her time, wait for the perfect opportunity.
But something unexpected happens while she's waiting – she begins to fall for the enigmatic troll prince to whom she has been bonded and married. She begins to make friends. And she begins to see that she may be the only hope for the half-bloods – part troll, part human creatures who are slaves to the full-blooded trolls. There is a rebellion brewing. And her prince, Tristan, the future king, is its secret leader.
As Cécile becomes involved in the intricate political games of Trollus, she becomes more than a farmer's daughter. She becomes a princess, the hope of a people, and a witch with magic powerful enough to change Trollus forever.
Wow! Danielle L. Jensen has a winner here. I was hooked from the start, where Cecile is kidnapped from her village and dragged underground. There, she learns that a hidden group of trolls is trapped underneath the mountain under a curse that can only be broken if the prince marries a "daughter of the sun" – and they've chosen her.
After an opening like that, how could I put it down? This is a YA high fantasy unlike any I've read before, and with a unique take on troll mythology. I loved Cecile as a protagonist. From the start, her reactions were realistic – who wants to marry a troll? Crucially, though, she's clever, and uses her own wits and common sense to navigate her way around this dangerous, politically fraught underground world. Tristan, the prince she's bonded to, is about as happy with the situation as she is – not at all! He's rude and abrasive, and to make things worse, his marrying Cecile doesn't break the curse as the trolls hoped. Now he and Cecile are permanently bonded, and each feels whatever the other does. Slowly, they move from enemies to grudging allies.
I loved all the details of this story, from the trolls' magic to the uprising Tristan is secretly involved with, to save the half-troll, half-humans who are doomed to a life of slavery. The trolls despise humans, and if the curse is broken, then the troll king would be free to conquer the world. I found all the interwoven conflicts fascinating, and simply couldn't put the book down. Of course, with so much detail, it's inevitable that this is the first book in a trilogy, but it's one I'll definitely be sticking with. The characters are complex, the romance is sweet and not forced, and the worldbuilding is compelling – I absolutely can't wait for the next book!
Rating: 5 stars.