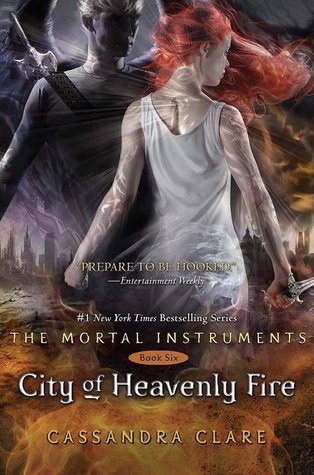 In this dazzling and long-awaited conclusion to the acclaimed Mortal Instruments series, Clary and her friends fight the greatest evil they have ever faced: Clary's own brother.

Sebastian Morgenstern is on the move, systematically turning Shadowhunter against Shadowhunter. Bearing the Infernal Cup, he transforms Shadowhunters into creatures out of nightmare, tearing apart families and lovers as the ranks of his Endarkened army swell.

The embattled Shadowhunters withdraw to Idris - but not even the famed demon towers of Alicante can keep Sebastian at bay. And with the Nephilim trapped in Idris, who will guard the world against demons?

When one of the greatest betrayals the Nephilim have ever known is revealed, Clary, Jace, Isabelle, Simon, and Alec must flee - even if their journey takes them deep into the demon realms, where no Shadowhunter has set foot before, and from which no human being has ever returned...

Love will be sacrificed and lives lost in the terrible battle for the fate of the word in the thrilling final installment of the classic urban fantasy series The Mortal Instruments!
Amazon
Amazon UK
It's so hard for me to review this book. I've been looking forward to it for so long, and it absolutely didn't disappoint. I was riveted throughout all 700+ pages. Sebastian unleashes a deadly attack on Shadowhunters worldwide, using the Infernal Cup to transform them into his obedient servants. The Shadowhunters make their final stand in Idris, but even that isn't enough, and the only way to win may be to venture into the demon realms, from which no one has returned alive.
Clare expertly weaves together all the different storylines in a finale that easily rivals that of Clockwork Princess, the conclusion to her Infernal Devices series (which I'd recommend reading before this!). The character development is superb, and this book outshines the previous two by a long way. The plot races along and I found myself turning pages well into the night, unable to stop. There's the usual perfect blend of drama, romance, action and suspense characteristic of Clare's novels, with the bittersweet flavour of an ending.
But it isn't just an ending, it's a beginning, as we're introduced to the main characters of the next series set in the world of the Mortal Instruments. I'm so happy with this ending, and I'll definitely be picking up Lady Midnight!
Rating: 5 stars.