Today I'm featuring author Heather Marie for my latest author interview here on the Writer's Nest! I was the final proofreader for her book, The Gateway From Which They Came, which is out this August from Curiosity Quills Press!
Tell me three interesting facts about yourself!
1. For a better part of my teens, I skateboarded all day, every day. Everyone used to tell me I skated like a dude. I think this was a compliment? In any case, I miss it outrageous amounts and still hope to get back to it.
2. My front teeth are partially fake. I knocked them out while trying to skateboard on my knees as a kid. This happened way before I actually got hardcore into the sport. I hit a large crack, flew forward, and… you get the rest. Since that, I think I've knocked my front teeth out at least two other times. It's a gift.
3. I have a fear of ladybugs. I don't know what it is. When they land on me, I lose it. I don't think they're good luck. I think they're gross and ugly and I don't want them anywhere near me. But hand me a crazy reptile, and I'm totally cool. Yeah, I don't get it either.
Summarize your book in one line.
Aiden Ortiz is a Gateway for the dead, but his gift becomes a curse when the Dark Priest's resurrection threatens to bring hell on earth, and leaves Aiden wondering which side he's truly on.
Tell me something cool/crazy/quirky about the book – it can be anything!
Gateway was my 2012 NaNoWriMo project. I honestly didn't think this manuscript would see the light of day. Turns out… it will!
Why did you decide to write this particular book?
I really felt for Aiden as a character. The second he popped into my head, I knew him. There have been a lot of things in my life that have attempted to sway me one way or another. Some good, some bad. I took all of this into consideration while writing Gateway. It was important for me to demonstrate that inner struggle we all experience, whether it's with faith, love, family, or friendship. To me, I see it as: We are what we choose to be. And that's how the idea for Gateway was born.
Best part of the writing process?
Being a pantser, the best part is writing in general. I don't outline, so I never know what's going to happen. Every time I sit down to write, I learn something new about my characters. I like knowing that I'm experiencing the action and mystery along side them.
Share one thing you learned writing this book.
That it takes 8 books to get published. Just kidding. Sorta. I did learn never to give up, as cheesy as that sounds. I've come a long way since my first manuscript, and I'm thankful for all those books in between that will forever be locked away. They helped me grow as a writer. I'd like to think Gateway is proof of that.
Tell me about one strange experience you've had. Again, it can be anything!
Two years ago, I saw my grandmother. Now that doesn't sound strange, until you consider the fact that she passed away back in 1993. I guess waking up to her lingering by my bed in the middle of the night isn't a horrible thing. But you can say it was a bit of a shock, to say the least.
Name one fictional place you'd love to visit.
Oh, I think we all know my answer. 100 points to Gryffindor!
Name one real place you'd love to visit.
Spain. I feel like I had to go big with this answer. If I'm being realistic, I really want to visit The Wizarding World of Harry Potter. Are we sensing a theme here?
Share one sentence/mini-excerpt from the book!
"Are you saying they're back?" I ask.
"If what you're saying is true, and I have no doubts, then yes. I don't know how, but the Brethren seem to be forming once again."
"But what do they want?" It's a dumb question, I realize, but I'm too stumped to say anything else.
Father Martin stops; his stricken eyes stare into mine. "Son, they're after what any dark being wants. Power."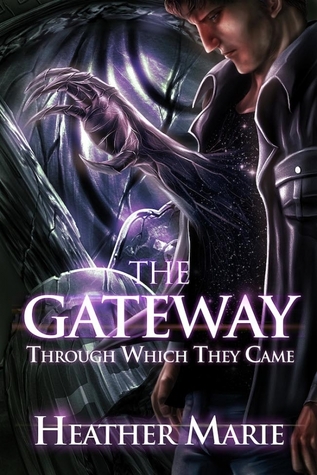 To seventeen-year-old Aiden Ortiz, letting the dead walk through his body to reach the other side comes with the territory. Being a Gateway isn't an easy job, but someone's gotta send Bleeders where they belong. Heaven. Salvation. Call it whatever you want. Dead is dead. But when his search for Koren Banks––the girl who went mysteriously missing seven months ago––leaves him with more questions than answers, he finds himself involved in something far more sinister and beyond his control.

With the threat of the Dark Priest's resurrection, and his plan to summon his demon brothers from hell, Aiden is left to discover his identity before the Dark Priest's curse infecting his blood consumes him, and before the world as he knows it succumbs to the darkness of hell on earth.
Author Bio:
Heather Marie lives in Northern California with her husband, and spends the majority of her time at home reading. Before she followed her dreams of becoming a writer, Heather worked as a hairstylist and makeup artist for several years. Although she enjoyed the artistic aspect of it all, nothing quite quenched her creative side like the telling of a good story. When the day had come for her to make a choice, she left behind her promising career to start another, and never looked back.


My Review!

I hesitated about reviewing this book because I was involved in the proofreading process and Heather and I share a publisher, but this is a book I'd have picked up anyway, and it's too awesome not to share my thoughts!
Aiden is a Gateway, someone with the unenviable ability to send dead people – Bleeders - to their final resting place. The dead are literally his life. I was totally hooked on the story (even when combing for typos! :P), and Aiden caught my sympathy from the start. He's a misunderstood teenager with a power he can't control, and one which seems to – maybe – be turning him evil. The mystery kept me enthralled and there is tension on every page. The characters come to life, from Aiden's friends Trevor and Evan to Koren, the girl who he once crushed on and who's returned after an unexplained seven-month absence leaving him thinking her dead. It's clear Koren's connected in some way to the seriously creepy shadow following Aiden around, but the story constantly kept me guessing and I couldn't predict what would happen next! This is a fantastic, gripping story and one that will keep you reading until the early hours.
Rating: *****