After a bizarre accident, Ingrid Waverly is forced to leave London with her mother and younger sister, Gabby, trading a world full of fancy dresses and society events for the unfamiliar city of Paris.

In Paris there are no grand balls or glittering parties, and, disturbingly, the house Ingrid's twin brother, Grayson, found for them isn't a house at all. It's an abandoned abbey, its roof lined with stone gargoyles that could almost be mistaken for living, breathing creatures.

And Grayson has gone missing.

No one seems to know of his whereabouts but Luc, a devastatingly handsome servant at their new home.

Ingrid is sure her twin isn't dead—she can feel it deep in her soul—but she knows he's in grave danger. It will be up to her and Gabby to navigate the twisted path to Grayson, a path that will lead Ingrid on a discovery of dark secrets and otherworldly truths. And she'll learn that once they are uncovered, they can never again be buried.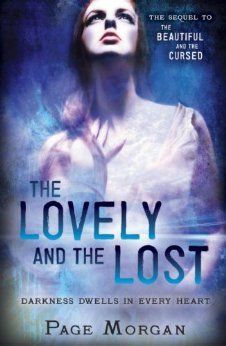 Ingrid and Gabby survived the Underneath. They saved their brother, Grayson, from a future of dark servitude and exposed a plot to undermine the Alliance. But danger still lurks in the streets of Paris, and the Dispossessed, perched on the city's bridges and rooftops, might not be able to save their human wards this time.
My review
I loved this series! It's a fabulous historical fantasy set in 1890's Paris, with gargoyles, angels and demons. Ingrid's and Gabby's brother Grayson has disappeared, and when they arrive at their new home in Paris, odd things start happening. Author Page Morgan does a wonderful job of creating an atmospheric, creepy setting with the mysterious gargoyle statues at the old abbey, and monster attacks in the streets. And there's something different about their new servant, Luc...
I really liked that the plot took several turns and wasn't easy to predict, and the rotating viewpoints kept things moving forwards and keep the suspense at a constant high! I loved the characters. Ingrid is reserved and sensible yet possesses a strange ability she can't control,
whereas her sister Gabby is impulsive and reckless, keen to learn to defend herself despite not having any supernatural talents of her own. But both are brave and resourceful, determined to find out what really happened to their brother. We learn pretty quickly that Luc, their servant, is actually a gargoyle bound to serve them due to a crime he committed, making him one of the Dispossessed. Relationships between the Dispossessed and their charges are strictly forbidden, but Luc may have already fallen for one of the sisters.
I've read other books about demons and gargoyles, but this felt really fresh, and the gothic romance angle works really well. The various plot threads and relationships could easily have become confusing, but they're expertly woven together. The action and suspense are well-balanced with the historical setting, and I was thoroughly engaged from beginning to end.
Happily, I enjoyed the sequel even more! Ingrid, Gabby and Grayson are dealing with the aftermath of the events of the first book (no spoilers!), and the author delves deeper into the world of the Dispossessed and the Alliance. Again, the suspense, action and mystery had me hooked, and I loved the development of each character.
With vivid writing, great conflict, and a new twist on mythology, this is a fantastic series I'd highly recommend to anyone looking for something new in YA!
Rating: ****1/2*