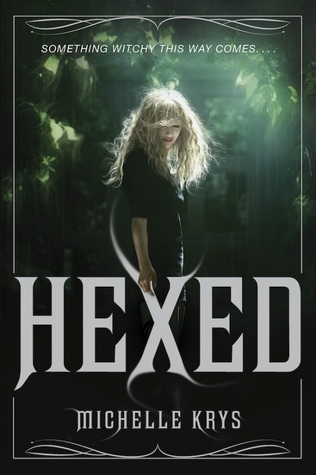 If high school is all about social status, Indigo Blackwood has it made. Sure, her quirky mom owns an occult shop, and a nerd just won't stop trying to be her friend, but Indie is a popular cheerleader with a football-star boyfriend and a social circle powerful enough to ruin everyone at school. Who wouldn't want to be her?

Then a guy dies right before her eyes. And the dusty old family Bible her mom is freakishly possessive of is stolen. But it's when a frustratingly sexy stranger named Bishop enters Indie's world that she learns her destiny involves a lot more than pom-poms and parties. If she doesn't get the Bible back, every witch on the planet will die. And that's seriously bad news for Indie, because according to Bishop, she's a witch too.

Suddenly forced into a centuries-old war between witches and sorcerers, Indie's about to uncover the many dark truths about her life—and a future unlike any she ever imagined on top of the cheer pyramid.
I loved this book! Hexed is a really fun, contemporary take on witches, and the voice is absolutely fantastic, total authentic teen. Indigo is a cheerleader who seems to have it made, but when she sees a guy fall to his death right in front of her, things take a turn for the weird. An old Bible that's been in her family for generations is stolen, and a sexy warlock warns her that if she doesn't get it back, it'll spark an old war between sorcerers and witches.
Indigo is a relatable and realistic teen, and I loved reading her journey as she comes into her powers. This is a tale packed with humour and great characters. I can't remember the last time I laughed out loud when reading a YA supernatural book, but this had me giggling all the way through. I'd recommend this to fans of Kiersten White and Rachel Hawkins.
Rating: 4.5 stars.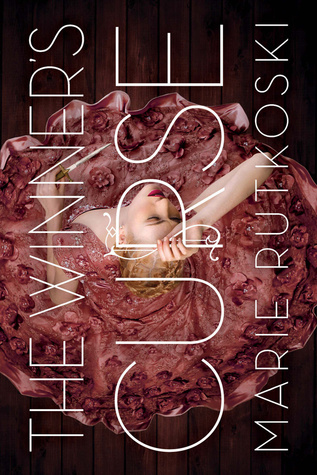 Winning what you want may cost you everything you love

As a general's daughter in a vast empire that revels in war and enslaves those it conquers, seventeen-year-old Kestrel has two choices: she can join the military or get married. But Kestrel has other intentions.

One day, she is startled to find a kindred spirit in a young slave up for auction. Arin's eyes seem to defy everything and everyone. Following her instinct, Kestrel buys him—with unexpected consequences. It's not long before she has to hide her growing love for Arin.

But he, too, has a secret, and Kestrel quickly learns that the price she paid for a fellow human is much higher than she ever could have imagined.

Set in a richly imagined new world, The Winner's Curse by Marie Rutkoski is a story of deadly games where everything is at stake, and the gamble is whether you will keep your head or lose your heart.
I've honestly never read a YA fantasy quite like this book. Set in a world where two nations have been at war, and the losing nation are now slaves of the winners, it follows Kestrel, daughter of a military general. Faced with choosing between a military life and marriage, Kestrel has no idea that her impulse decision to buy a defiant young slave from an auction could have serious consequences for her family, her nation, and herself. The story is told in alternating perspectives from Kestrel's and Arin's perspectives, allowing the reader to see both sides of the conflict. The characterisation is excellent, and although the pace is initially slow, the story is completely engaging. The world, with the two cultures' customs and outlooks, is fleshed-out and has depth. I'm really glad I picked up this book (it's only £1.99 for Kindle on Amazon UK!) - I'd highly recommend it to anyone looking for something a little different in YA fantasy!
Rating: 4.5 stars
The world has long forgotten them, but their descendants live on, not wholly mortal or god, but something in between…

At the dawn of the sixth century, in the aftermath of her mother's brutal execution, Mara Black is forced to flee the only life she has ever known.

Mara can tell she's different, but isn't sure why. After she encounters two mysterious strangers, she discovers her secret is but a drop in an ocean of many. She is a Dia, a descendant of ancient gods, and her mother sacrificed herself to protect Mara from their past.

Summoned by an uncle she didn't know existed, Mara thinks she's found the family she's always wanted, and Corbin, a love she never thought possible. But not everything is as it seems. Her uncle has other motives for protecting her, and her mentor, Malcolm, becomes so jealous, he'll do anything to get what he wants. When tragedy strikes, and the true darkness among them comes to light, Mara discovers that sometimes love can give you everything, and obsession can take it all away. With her powers gone, and destiny calling, she has to look deep within to find the courage to save herself. Mara, along with Corbin and her newfound family, must fight to get back what was taken, or die trying.
My review
I won a signed copy of this book in a giveaway, and I couldn't wait to read it! The Darkness of Light is a fabulous historical-fantasy which engaged me from the first page.
The story is set in an alternative 6th-century England, where magic is real. After her mother is executed for witchcraft, Mara is forced to put her trust in an uncle she never knew she had, and two strangers. Upon learning she is a Dia, descended from gods and gifted with the power of Light, she settles into her new home and falls in love with fellow Dia, Corbin. But her jealous mentor, Malcolm, threatens to take away her life and her powers, and Mara must overcome the darkness to save herself.
The writing is visual without being over-embellished and the story flows beautifully. Mara is a great heroine, who grows into her full strength through hardships. The supporting cast is well-developed and Malcolm in particular is more complex than most villains in fantasy, even to the point of sympathy. The plot moves at just the right pace, and the ending sets the scene for the rest of the series while being a satisfying conclusion in itself. There's enough depth and detail to bring the historical period to life, and the take on Irish mythology is a unique one – I'm really interested to learn more in the next book!
A thoroughly enthralling read – recommended to fans of fantasy, historical fantasy and mythology, and anyone looking for a great story!


Rating: 4.5 stars.