Welcome to Part 2 of Emma's Top 2014 Reads! Part 1 last week focused on fantasy, and this week, I'm highlighting my top dystopian/sci-fi reads of 2014.

Vicious by Victoria Schwab is a bit difficult to classify, but I'd call it sci-fi/superhero fiction. It follows two college friends who attempt to give themselves superpowers, and end up bitter enemies. Dark, twisty and compelling, this is a fantastic and gripping read
!
Susan Kaye Quinn's gripping e-serial Debt Collector was honestly unlike anything I've read before! It's future-noir, in which people's worth as humans can literally be calculated based on their future potential, and the Debt Collectors' job is to take the life force from people. Gripping stuff!
I'm not sure this really counts as dystopia or urban fantasy, but Poison Princess by Kresley Cole is pretty hard to categorise, seeing as it's part-apocalyptic, part-fantasy, part-romance. But it's a pretty fantastic read! The Tarot-based mythology and the vision of the apocalypse kept me glued to the pages.
I suffered dystopian burnout after last year, but I loved Unwind by Neil Shusterman. A dark, compelling read with a terrifying concept!
One and Two by Leigh Ann Kopans have a really cool take on superpowers and are also great stories!
Brandon Sanderson's Steelheart also deals with superhero/supervillain tropes in a really interesting way, set in a future-world where the superpowered "Epics" are in political power.

Probably the best sci-fi book I've read this year was Cress by Marissa Meyer, the third in the fabulous Lunar Chronicles! I have nothing but good things to say about this series, and I'm ecstatic that there's going to be another book which focuses on Queen Levana!
I'm late to the party on this one, but I finally read the Across the Universe trilogy by Beth Revis! In fact, I read the whole trilogy in a weekend. This joins my top favourite sci-fi reads of all time!
I finally finished the Chaos Walking trilogy by Patrick Ness! Wow. Now this is how you write dystopian. Sooo intense and thought-provoking! I also loved More Than This, Patrick Ness's newest book, which has a really unique dystopian-ish twist and kept me glued to the pages!
Julie Kagawa's post-apocalyptic vampire trilogy finished on a fantastic note with The Forever Song! She's made my auto-buy list, for sure.
A new series I discovered was The Darkest Minds by Alexandra Bracken, which has a really cool take on mind-powers and a gripping storyline.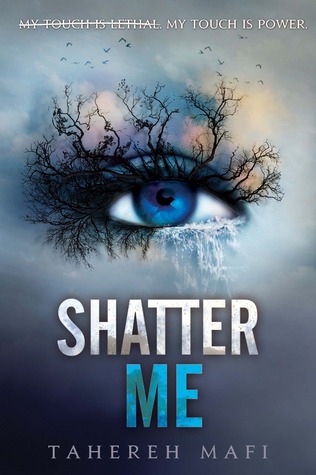 And I read Shatter Me by Tahereh Mafi. In fact, I read the entire series in two days. Oh. My. God. The writing, guys...it's just so poetic and raw and intense. And the character development. Stunning. It gave me a book hangover that lasted a whole week!