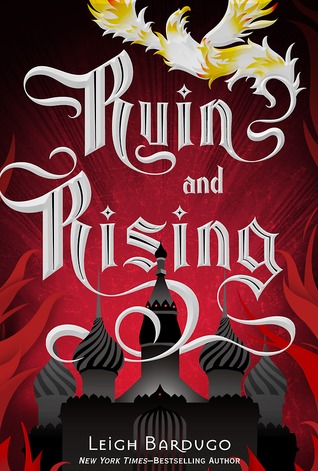 The capital has fallen. The Darkling rules Ravka from his shadow throne.

Now the nation's fate rests with a broken Sun Summoner, a disgraced tracker, and the shattered remnants of a once-great magical army.

Deep in an ancient network of tunnels and caverns, a weakened Alina must submit to the dubious protection of the Apparat and the zealots who worship her as a Saint. Yet her plans lie elsewhere, with the hunt for the elusive firebird and the hope that an outlaw prince still survives.

Alina will have to forge new alliances and put aside old rivalries as she and Mal race to find the last of Morozova's amplifiers. But as she begins to unravel the Darkling's secrets, she reveals a past that will forever alter her understanding of the bond they share and the power she wields. The firebird is the one thing that stands between Ravka and destruction—and claiming it could cost Alina the very future she's fighting for.
Amazon
Amazon UK
Words can't describe how much I love this series. Leigh Bardugo has created such a compelling story, and the final chapter is just as strong as the other two books. After the end of Siege and Storm, Alina is powerless and in hiding with people she's not sure she can trust. But her only hope to beat the now-ruling Darkling lies in the legendary firebird, even though the power she could gain might cost her everything she holds dear. In this final volume, the plot comes together and secrets that have been woven into the series are finally revealed. I followed every twist and turn with bated breath, completely compelled right up to the bittersweet, yet fitting, finale.
I love the characters. Alina has grown so much over the series, yet still struggles with the lure of the power inside her and her connection to the Darkling. The villain himself remains as complex and alluring as ever, and despite his power, has a heartbreakingly human element. And Mal and Alina's relationship gets some development, too (even though everyone, of course, is Team Darkling *ahem*). The minor characters are great as well, especially Nikolai, the infuriating prince and privateer.
I love the world of the story, too. It's creative and unique and rich in detail, and the stunning writing makes this story even more enjoyable. Leigh Bardugo has a gift for phrasing the key moments just right so they hit you right in the feels. Ouch.
I'm sad it's over, but I'm thrilled that Leigh Bardugo is writing more books set in this world! This makes the list of my all-time favourite series, one I'll be rereading over and over again.
Rating: 5 stars.